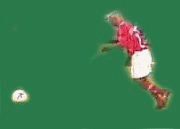 Football, the sport of the world and the people, and in the opinion of many the most beautiful sport on earth.
This wonderful little game has millions of fans, teams, players and tournaments, and I am one of those fans.
The teams I follow are Juventus, Persepolis, Boca Juniors and Arsenal.Being a supporter of those teams, naturally I have to hate alot of other teams. Man Utd, Real Madrid, Inter, AC Milan, AS Roma and Esteghlal are all teams I hate with a passion.
My favorite football player is Zinedine Zidane, the French midfielder, it's a shame he plays for Real Madrid. He has a good style of play, great shots, and a good team leader. Del Piero and Figo are respectable as well, because they are not flashy players, or players who gained fame through advertisements (like Beckham), although both Del Piero and Figo have appeared in many advertisements, but players that are specialists in dead balls and long shots.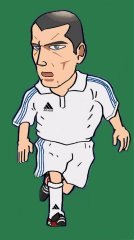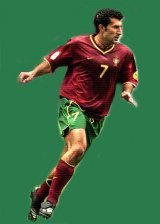 Important Tournaments
EuroCup 2004 Portugal (My site)
EuroCup 2004 Portugal (Official Website)
Asia Cup 2004 (Official Website)
2004 Athens Olympics (Official Websites)
---
Also see some interesting football clips here.
---
Football Video Games
There's a wide variety of football games available, the best being the FIFA™ and ISS (International Superstar Soccer) or Winning Eleven as the game is called in Japan.
In terms of graphics FIFA from EA Sports is better then ISS but gameplay is much better in FIFA.
If you don't like those type of football games, you can try the simulation kind, the best two being the Championship Manager series and the EA Football Manager series. Championship Manager has more leagues, and some more options but Football Manager, looks better visually. It should be noted that in the games you never actually play, you sign, train, and prepare tactics for your team and see how well your team does.
If you know how to edit League, team, stadium and player names in CM as well as all other data in the game please contact me via e-mail.
Info about all football video games can be found here.
Screenshots of Pro Evolution Soccer 3
---